Tips for Buying White Dresses for Women
These useful tips will help you find the perfect white dress. Forget that old rule of "Never wear white after Labor Day." You can now wear white at all times!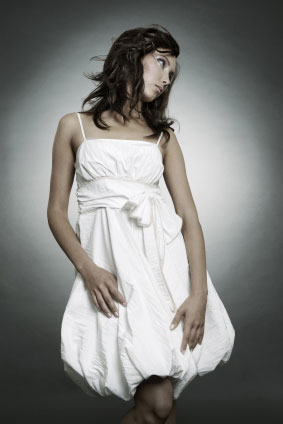 A woman wearing white sheath dress.
White Summer Dresses for Women
When searching for the perfect white summer dress for seasonal outdoor activities, look for a lightweight material that will be comfortable and airy in the hot summer sun. Remember that white summer dresses are more likely to show perspiration stains than other colors. You want to remain as cool as possible in your dress. White linen dresses are a popular choice. White cotton dresses also are lightweight and simple to fold and pack in a suitcase for summer getaways. You might also look for a white summer dress with a comfortable lightweight jacket for those cooler summer evenings spent walking along the beach.
White Formal Dresses for Women
Whether the occasion is a party, a special ceremony or a red carpet event, white is a popular color choice for formal attire. However, the length of white formal dresses varies greatly and can be extremely important depending upon the occasion. White long dresses are often appropriate for an evening affair. However, if the occasion takes place in the afternoon, a shorter white formal dress may be better suited to the event. Again, as white tends to show perspiration stains, you want to either choose a lightweight material or consider a white formal dress with spaghetti straps. Strapless white formal dresses are also a popular choice.
White Party Dresses for Women
When shopping for white party or cocktail dresses, consider the fact that refreshments will be served at the party. Choose a material that will clean easily if you accidentally spill something on your dress. You may also consider a combination of colors, or even a print, that will hide those little spills throughout the night. Black and white dresses for women are quickly becoming a stylish fashion selection.