Tips for Buying Plus Size Dresses for Women
Follow these fashion tips for buying fabulous plus size dresses. A full figured woman can look absolutely stunning in the right dress. Find out how with these great tips.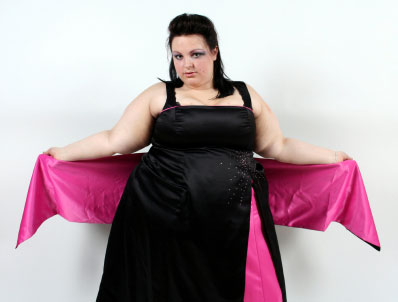 Plus size women tend to choose black dresses.
Plus Size Party Dresses for Women
When shopping for plus size party dresses, the full figured woman must keep a few things in mind. The first thing to consider is color. Choose a color that compliments your skin tone. Many women opt for black plus size dresses in an effort to appear slimmer. While black is an excellent choice, don't limit yourself. You can look great in other colors if you know how to select just the right plus size party dress to accentuate your great features and hide troublesome areas. Consider the following ideas:
A longer dress with a flared skirt and cinched waistline will give you more of an hourglass figure, as well as elongate your body.
If your upper arms are a problem area for you, stay away from strapless plus size dresses, spaghetti straps or short sleeved dresses. Instead, opt for a plus size party dress with ¾ inch sleeves or long sleeves. If the weather is warm and you must buy a dress with straps, consider a lightweight shawl or wrap to cover your arms.
If you are top heavy but have a smaller trunk, draw attention to the bottom half of your body while downplaying the top. One option is to select a dress with a pattern or embellishments of some type on the skirt, but no extra frills on the top half.
Plus Size Evening Dresses for Women
Whether buying cocktail dresses or plus size formal dresses, an utmost concern for full figured women is support. Evening dresses generally are long and form fitting. Many plus size women think they have to purchase a dress that is long and flowing in order to hide their troublesome areas. While this may at times achieve that, there is absolutely no reason why you can't look fabulous in a form fitting dress. The trick is to be sure it fits in all the right places. If a plus size evening dress gives you enough support in the right areas you can look positively stunning.