Tips for Buying Chinese Dresses for Women
Whether you are searching for a silk dress or a traditional Chinese wedding dress, these tips for buying Chinese dresses for women will help you understand what to look for.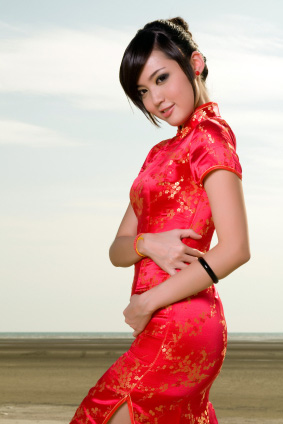 Beautiful and elegant chinese model in red cheongsam
Cheongsam Chinese Dresses for Women
Chinese dresses are made in a variety of styles and cuts. Selecting the right Cheongsam Chinese dress for your particular body shape is the secret to looking absolutely stunning. Larger women should look for a vibrant solid color, such as a red or blue Chinese dress with a side split. Petite figures should avoid long Chinese dresses and opt for a shorter hemline. Additionally, they should stay away from any kind of boxy prints or cuts. A skinnier woman can add width to her appearance by choosing brocades with beautiful broad silk patterns and designs. Women who may be a bit broader in the shoulders or hips can soften their appearance with silk Chinese dresses. If you have a long neck, the traditional Chinese high collar is ideal. However, selecting a Chinese dress with a plunging neckline can easily elongate a smaller neck.
Chinese Wedding Dresses for Women
If you are planning a traditional Chinese wedding you will need a beautiful Chinese wedding dress. There is a large amount of symbolism behind the traditional wedding dress in the Chinese culture that you should familiarize yourself with before making a purchase. The majority of Chinese wedding dresses are red, as red is a symbol of happiness. In contrast, white is traditionally the color signifying death in the Chinese culture and is usually avoided. Chinese wedding dresses are generally decorated in beautiful gold embroidery and designs. These golden embellishments symbolize wealth and prosperity. The motif is another important aspect that should be taken into consideration. In China, the peony flower is a symbol of wealth, while the lotus flower indicates holiness and purity. The phoenix is generally a motif associated with the imperial court, while the dragon is symbolic of strength and power.