Tips For Buying Black Dresses for Women
Discover the key for finding the perfect black dresses for women. From simple little black dresses to formal black dresses, black is a popular dress color in any style.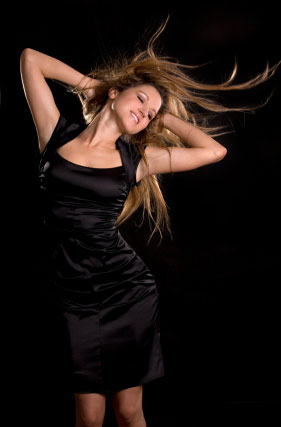 Black dress is a must-have in every woman´s wardrobe.
Little Black Dresses for Women
The little black dress is a must have staple to any woman's wardrobe. There are a few important things to keep in mind when buying your little black dress though. Just any black dress won't do.
The key to finding the perfect little black dress is versatility. Your dress should be adaptable and easily mixed and matched with a number of other items in your closet. Be sure that the little black dress you choose can be accessorized for a variety of occasions. A simple black dress without added frills can be great in the spring and summer with some colorful jewelry and sandals. The same dress should also look great in cooler months with a sweater or jacket pulled over it.
Another thing to consider when shopping for little black dresses is comfort and fit. As with any garment, it is vital that your black dress fit you perfectly. It is after all, an item in your closet that you will be getting a lot of wear out of. If you aren't comfortable in your little black dress, chances are you won't wear it as often.
What type of material is the dress made from? Black velvet dresses may be beautiful, but will a velvet dress be practical and versatile? Will a black cotton dress or a black silk dress be more appropriate for various occasions?
Little Black Dresses for Plus Size Women
What better color for the full figured woman than black? Black is not only a necessity to every woman's closet; it is a slimming color as well. When selected carefully, little black dresses can help cover a multitude of problem areas. Don't like the way your legs look? A long black dress will take care of that issue. To make the waist appear slimmer, you may want to try an A-line or empire waist on your little black dress.