Tips for Buying Casual Dresses for Women
Consider these great tips when buying casual dresses. One of the greatest pieces of clothing to have in your closet is a casual dress. These tips will show you why.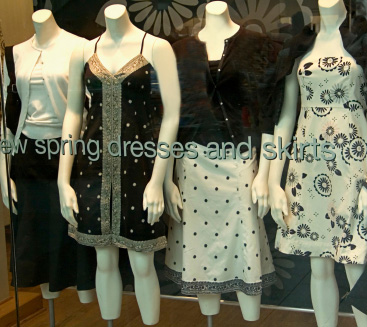 Casual dresses at a shop window.
Casual Summer Dresses for Women
Casual summer dresses are ideal to slip on during the lazy days of summer. They are light, airy and look great with a pair of sandals. In addition, you don't have to worry about mixing or matching separate items of clothing. When buying casual dresses, you should think about purchasing a number of different styles for various occasions. However, if you find a particular style you like, there is no harm in buying 2 or 3 in various colors or patterns. Since you will likely be getting a lot of wear out of your casual summer dress, you should think about the type of material the dress is made from. Select a material that will wear well all summer, such as light cotton.
Long Casual Dresses for Women
When looking for long casual dresses, you should consider exactly how long of a dress you should get. Petite women should really try to stay away from longer dresses, as they tend to make them look even smaller. Tall women wear long casual dresses exceptionally well, and should opt for a dress that reaches to the ankle. If you have a problem area that you wish to hide, casual dresses are ideal for this. For example, if you have wide hips, you can easily cover them with a long casual dress with a cinched waist and flared skirt.
Business Casual Dresses for Women
Business casual dresses can be a great way to stay comfortable at the office and still portray that sophisticated sense of style. A business casual dress should generally be about knee length or a little lower. Short casual dresses and long dresses are not typically suitable as business attire.