Tips for Buying Tunic Dresses for Women
Follow these fantastic tips for buying tunic dresses for women. From classy embroidered tunic dresses to simple white or black tunic dresses, this ageless style never seems to get old.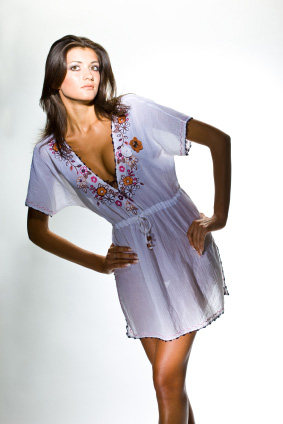 A woman wearing folklore styled tunic.
White Tunic Dresses for Women
To achieve a natural, carefree look, nothing seems to say simplicity like a beautiful white tunic dress worn over a pair of classic jeans. When shopping for white tunic dresses, why not search for a beautifully embroidered tunic dress that would look great alone with a pair of sassy sandals. The beauty of a white tunic dress is that it can be dressed down for daytime play or up for nighttime fun. For versatility, try to select a length that will look great either alone or over a pair of leggings or jeans. Black tunic dresses are also easily combined with almost any color and make for a cool and comfortable style.
Long Tunic Dresses
Since long tunic dresses are primarily about the length of a mini dress, petite or tall women either one can easily pull off wearing a cute tunic dress by itself with a pair of sandals. Lean women may want to select a print tunic dress that will add the illusion of a little width so as to not appear overly tall and skinny. Full figured women can look great in a plus size tunic dress paired with a nice pair of leggings or tights. Stay away from wide patterns however, and opt for a solid color or small vertical print.
Silk Tunic Dresses for Women
Why not add a touch of elegance with a beautiful silk tunic dress? When looking for silk tunic dresses, select a shimmering color that will compliment your skin tone. Remember that silk may cling and be a bit more form fitting than cotton tunic dresses, so choose a style that will flatter your figure.