A Buying Guide to Shirtdresses for Women
These tips for buying shirtdresses will keep you comfortable and in style all year long. Shirtdresses are perhaps the most versatile and adaptable dress you can have in your closet.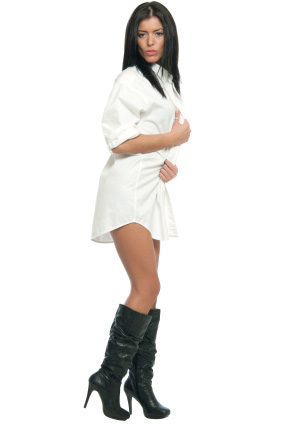 Shirt dresses are very comfortable and can be worn as tunnic dresses.
T-Shirtdresses for Women
For a light and airy look and feel, choose a simple t-shirtdress in your favorite color. You can look for a plain white cotton t-shirtdress to wear over a pair of denim shorts for a whimsical carefree look, or a black ruffled shirtdress for a cool summer evening appearance with a touch of class. Your t-shirtdress can also function as a swimsuit cover up at the beach.
Belted Shirtdresses for Women
Belted shirtdresses are ideal for the workplace or to convey a sophisticated, put-together look. You may want to select a neutral color that you can easily layer with your favorite tank top or dressy camisole underneath. If you select a lighter weight, breathable material, your shirtdress can be worn alone in the spring and summer or layered in the cooler months. A floral shirtdress paired with a solid tank can easily create a sense of sophisticated, carefree style. For a more playful and daring look, why not try a safari shirtdress with a camisole? Belted shirtdresses are perfect for the woman who wants to make her waist look a bit smaller. A wide belt in a contrasting color can give the appearance of a small waist and an hourglass figure.
Plus Size Shirtdresses for Women
Shirtdresses are perhaps the most versatile dress for any body shape. A beautiful plus size shirtdress should be in the closet of every full figured woman. By choosing solid color plus size shirtdresses, you can elongate your body, giving the appearance of a taller, thinner frame. Vertical striped shirtdresses will also give this effect.