Tips for Buying Sundresses for Women
Follow these great tips for buying sundresses for women and keep your cool in the hot summer sun. Spend the summer in comfort and coolness with a cute sundress.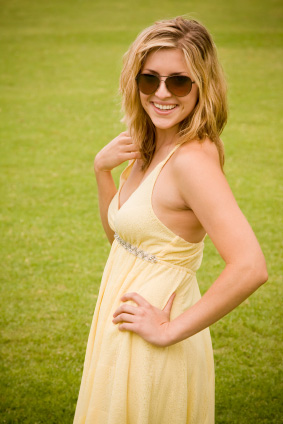 A woman wearing sun dress and sunglasses.
White Sundresses for Women
Casual sundresses for summer come in all kinds of colors and designs, but white sundresses are by far one of the more popular colors for cool summer fun. Unlike a number of colors that absorb the sun, white sundresses reflect the sun off of you, allowing you to remain cool and comfortable no matter how hot it is. Not only will a white sundress help you to keep your cool, it will go with almost anything. White sundresses can easily be dressed down or up to accommodate the occasion. When shopping for your white sundress you should look for a light material that is airy and comfortable. However, you also want to keep in mind that white sundresses are more likely to reveal undergarment outlines than other colors are. Choose a cotton sundress that is either lined or thick enough to hide what you're wearing underneath in an effort to avoid those embarrassing shadows.
Long Sundresses for Women
One of the more recent trends in summer style is the maxi sundress. These long sundresses incorporate the traditional fitted bodice with full, flowing long skirts. Long sundresses are ideal for taller women who may want to draw attention away from their height. By choosing a maxi sundress with a bold or floral print, the leaner woman can also add the illusion of width. For this reason, plus size women would do well to stay away from large prints and opt instead for cute sundresses in solid colors or small vertical designs.
Casual Sundresses For Women
One of the greatest things about cute summer sundresses is their versatility and cost. Cheap sundresses are available in all colors and styles and offer a cool, comfortable summer style that can be played up or down. During the day casual sundresses look great with a pair of sandals or even flip-flops! At night you can dress up a casual sundress with a pair of high heels and jewelry or a beautiful scarf.